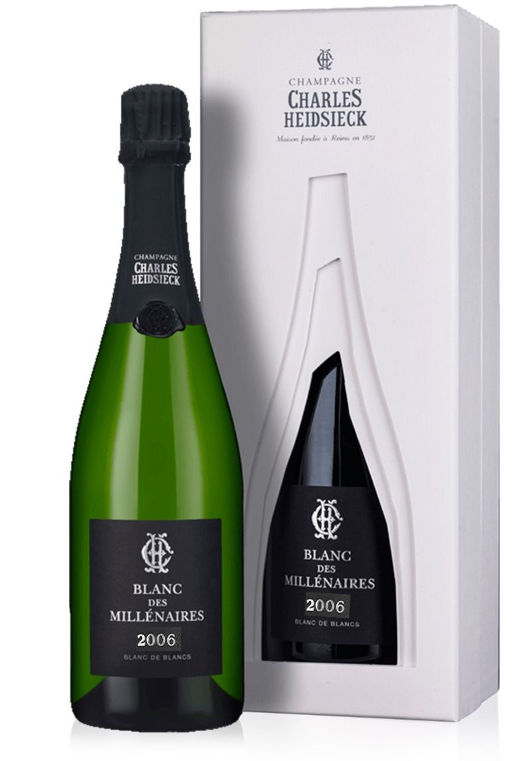 The History: "Blanc des Millénaires": this exceptional cuvée is named in honor of its ageing conditions. Acquired more than 150 years ago by the founder, the thousand-year old crayères of the House hold a central space in the creation of this cuvée such as time, fourth varietal of the House. 
IN1993, Charles Heidsieck presents for the first time Blanc des Millénaires in its prestigious vintage 1983. It was at the time the affirmation of a know-how in the elaboration of Blanc de Blancs (the oldest being from 1949), and the will to affirm a style.
Since then, the House has revealed only five vintages have seen the light of day: 1985, 1990, 1995, 2004 and 2006.
The Wine: Blancs des Millénaires are Blanc de Blancs produced from the best Chardonnays, deeply rooted in the unique terroir of the Côte des Blancs which owes its name to the distinctive characteristic of being made with over 95% of Chardonnay grapes.
It is a treasured gem of an area, its vineyards give birth to elegant wines with superb finesse and liveliness.
Just five of the main crus from the Côte des Blancs, comprising four Grands Crus and one Premier Cru are painstakingly selected for their ability to develop as well as to fully express their richness once mature.
The terroir of Oger for its finesse and smoothness, Le Mesnil-sur-Oger for its structure, Avize for its minerality, Cramant for its complexity, and Vertus for its vibrancy and floral notes. 
Boccaccio Cellars offers free shipping for 12 or more bottles of wine, or if the value of the wine is over $300. Fixed Shipping $12 Australia wide on wine when you don't qualify for free shipping. Beer slabs attract a $20 per carton freight cost Australia Wide.
By default orders are shipped via Australia Post, unless you are located in a 3km zone from our store. Please note Australia post do not call prior to delivery, so please do not request this in your order as it is not possible. They also do not deliver during certain times. Their standard times are 9-5 weekdays.