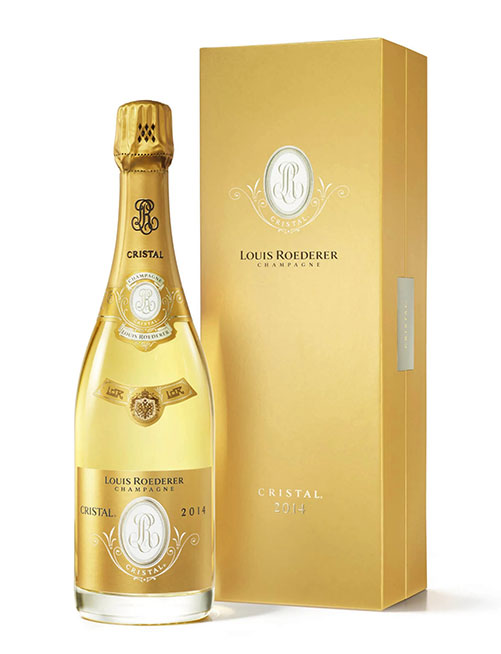 White Sparkling
France
Year 2014
12% Alcohol
by Louis Roederer
I
t is a radiant Cristal champagne that is emerging, already quite a charmer yet still with such immense potential ahead of it. Of Domaine Cristal's 45 historical vineyard plots, only 39 were selected to go into the final blend this year, those in which the grapes reflected the true identity of this unique wine: purity of fruit, remarkable finesse and elegant length.
Cristal owes this loyalty to the soil to its permanence. It is a wine that is rooted in the eternal, that of the seasons, a ripening cycle, a heritage and a quest. The quest for excellence, purity and harmony, to create a wine that vibrates in tune with its terroir and mirrors its qualities. All that remains is for the cellar master to adjust this resonance, to give the wine the most fitting ageing process to allow it to vibrate at the highest level.
Since 2012, Cristal has been made entirely from organically-farmed grapes, an approach Lécaillon adopted in order to achieve a more ideal and parallel relationship between sugar and phenolic ripeness. "Champagne is always a battle between picking too early and rot," Lécaillon has often said during our tastings. One of the other benefits of organic farming is that it naturally lowers yields. As Champagne fans know, the great wines of the 1950s and 1960s were made at a time when yields were in the 5,000 kilo per hectare range. Then, in the 1980s, widespread planting of higher-yielding clones led to an entirely different situation in the vineyard. Today's permitted yields are 11,000 kilos per hectare, with some variation in years that present unusual growing conditions. With organic farming, yields for Cristal are in the 7,000-9,000 kilo per hectare range. Another innovation at Roederer has been a focus on higher-density plantings with newer vineyards, an approach that encourages low production per vine. But back to the wine. Drink 2024 - 2064.
Alison Napjus, Wine Spectator
This vivid Champagne shows up-front and linear definition, thanks to rapierlike acidity, with finely meshed flavors of ripe black cherry and mandarin orange fruit, raw almond, anise and cardamom spice as well as a touch of honeycomb, which all unfurl and expand on the fine, creamy palate. Sleek acidity continues through to the finish, with additional racy character provided by a streak of minerally saline and chalk, which gains momentum through the midpalate and rings out on the well-cut, lasting finish. Pinot Noir and Chardonnay. Drink now through 2040.
An enlightened expression from a season of extremes, this has intensity, ripeness and depth of fruit that is underpinned by chalk soil-derived structure and freshness. Complex nose with lemon and grapefruit aromas, as well as closed red apple, blood orange, light biscuit spices and toasted hazelnuts. Super fresh. The palate starts pithy and fleshy with pink grapefruit, blood orange, red apple, sliced strawberry and nectarine. Expansive and mouth-filling build that is driven by concentrated fruit, Then it tightens and turns to a more mineral edge, before smoothly honed phenolics finish it long. It is 60% pinot noir and 40% chardonnay, 32% oak fermentation in those same proportions, no chaptalization, no malolactic and a dosage of 7g per liter. From organically farmed grapes. Very complex, it strikes a natural balance and is very drinkable already, though will develop well for more than a decade in the cellar.
Boccaccio Cellars offers free shipping for 12 or more bottles of wine, or if the value of the wine is over $300. Fixed Shipping $12 Australia wide on wine when you don't qualify for free shipping. Beer slabs attract a $20 per carton freight cost Australia Wide.
By default orders are shipped via Australia Post, unless you are located in a 3km zone from our store. Please note Australia post do not call prior to delivery, so please do not request this in your order as it is not possible. They also do not deliver during certain times. Their standard times are 9-5 weekdays.