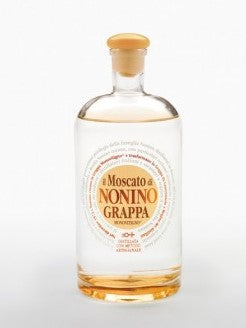 Crafted from the finest Moscato grapes, this exceptional grappa undergoes a meticulous six-month resting period before it is elegantly bottled. Its pristine clarity and dazzling brilliance immediately captivate the senses. A pure and intricate bouquet emerges, revealing notes of oregano, thyme, candlewax, and enticing fruit bread.
Upon first sip, this grappa greets the palate with a gentle and light entrance, gracefully leading into a supple texture that unfolds layers of beeswax-infused raisin bread and delicate spice nuances. As the experience lingers, subtle hints of sourdough crust, green olive, and a refreshing grape-herbal essence delicately emerge, harmonizing with the overall profile. The finish is remarkably long, maintaining a soft and vibrant character that leaves a lasting impression of sheer deliciousness.
With an alcohol content of 41% Alc./Vol., this grappa is a testament to the Nonino family's unwavering dedication to the art of distillation since their establishment in 1897. Each generation has strived for continuous improvement and innovation, transforming the perception of this ancient Friulian spirit.
In 1973, Nonino pioneered the creation of a single varietal grappa using the indigenous Picolit grape, setting a trend that would be followed by distillers across Italy. Their commitment to preserving local varieties led to the establishment of the prestigious 'Risit d'Aur' (Golden Rootstock) Award in 1975. This annual accolade recognizes Friulian growers who dedicate themselves to the preservation and propagation of native vine material.
Nonino further elevated the standards of grappa in 1984 with their groundbreaking technique of distilling from whole grapes, preserving their distinctive aromas, flavors, and velvety smoothness on the palate. Building on their legacy, the Nonino family unveiled Gioiello in 2000—a pure honey distillate that complements their exceptional range, solidifying their position among the industry's finest producers.
The Nonino family's passion for distillation, tireless advocacy for local varieties, and relentless pursuit of excellence have shaped this remarkable grappa. It stands as a testament to their unwavering commitment to the craft, offering a sensory journey that few can rival in terms of quality and artistry.