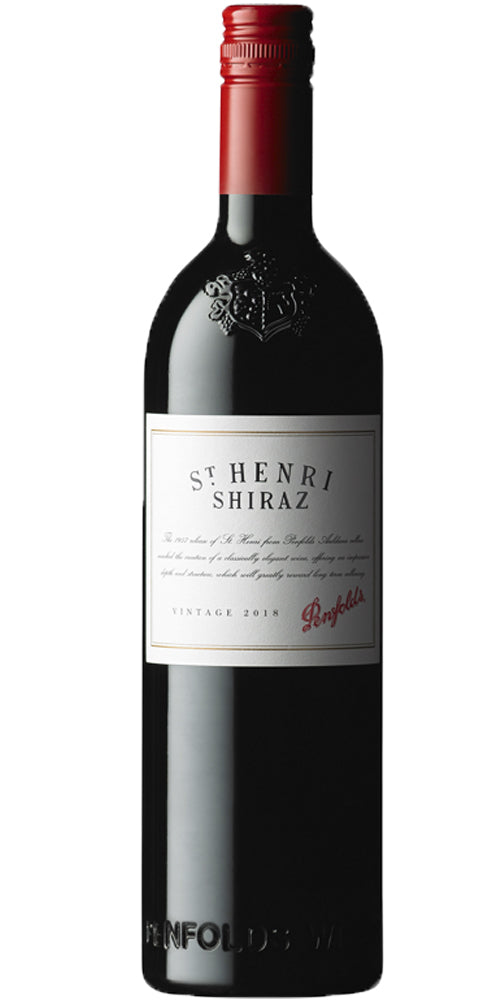 Red
Australia
Year 2018
14.5% Alcohol
by Penfolds
"
St Henri is a time-honoured and alternative expression of shiraz, and an intriguing counterpoint to Grange. It is unusual amongst high quality Australian red wines as it does not rely on any new oak. Proudly, a wine style that hasn't succumbed to the dictates of fashion or commerce. St Henri is rich and plush when young, gaining soft, earthy, mocha-like characters with age. It is matured in an assortment of old large vats that allow the wine to develop, imparting minimal, if any oak character. Although a small proportion of cabernet may sneak into the blend, the focal point for St Henri remains shiraz." - Penfolds
A beautiful St Henri vintage. Gorgeously seductive blackberry, mulberry, dark cherry, sweet plum aromas with dark chocolate, graphite, roasted walnut notes. Inky and sinuous palate with plentiful pipe blackberry, mulberry fruits, fine looseknit chalky tannins, superb mid-palate viscosity and underlying chinotto, roasted walnut notes. One of the great St Henri vintages in recent times.
A great St. Henri and, although multi-regional, this is very much a wine that speaks of the Barossa Valley, with aromas of ripe blackberries and red plums that are so fresh, together with tobacco, young-leather, earth, chocolate, coal-smoke and tarry accents. Effortless depth on the palate with summer berries, framed in fine, alabaster-like tannins that are underscored with discreet power. So long and captivating.
Boccaccio Cellars offers free shipping for 12 or more bottles of wine, or if the value of the wine is over $300. Fixed Shipping $12 Australia wide on wine when you don't qualify for free shipping. Beer slabs attract a $20 per carton freight cost Australia Wide.
By default orders are shipped via Australia Post, unless you are located in a 3km zone from our store. Please note Australia post do not call prior to delivery, so please do not request this in your order as it is not possible. They also do not deliver during certain times. Their standard times are 9-5 weekdays.